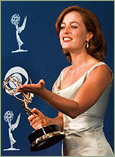 For the next several years, Gillian continued to play the enigmatic Special Agent Dana Scully and "The X-Files" received numerous awards and nominations through the course of the series.

Gillian's portrayal of Dana Scully won her many nominations and these awards:

1996 Screen Actors Guild Award - Outstanding Performance by a Female Actor in a Drama Series
1997 Emmy - Outstanding Lead Actress in a Drama Series
1997 Golden Globe - Best Performance by an Actress in a TV Series, Drama
1997 Screen Actors Guild Award - Outstanding Performance by a Female Actor in a Drama Series

For a complete list of all Gillian's nominations and awards, click here.

1998 was one of the most eventful years of her career. "The X-Files" made a leap to the big screen with the release of the summer blockbuster, "The X-Files: Fight the Future." In autumn of that same year, Gillian had supporting roles in two more films: "Hellcab" and "The Mighty." She demonstrated her extensive acting range by playing characters that had absolutely no resemblance to Agent Scully.

Of these two films, she commented, "What I've done so far has been very different. I played kind of a Southside Chicago chick, early 20s, in a movie called Chicago Cab and then a middle-aged vintage biker-alcoholic in a movie called The Mighty. I tend to steer away from those that are similar to Scully at all and, hopefully, will pull it off."

In 1999, Gillian continued to seek different and challenging roles by playing Meredith in the ensemble film "Playing By Heart" and voicing the character of the Wolf God Moro in the English version of the critically acclaimed award-winning Japanese animation film "Princess Mononoke."

Gillian made "The X-Files" history in 2000 by becoming the first woman to write and direct an episode of the series entitled "all things" (first broadcast on April 9). "It was an amazing experience," she said. "I didn't realize how much I was going to enjoy it. It was a process of doing something that you've never done before, that you are both exhilarated by and terrified by at the same time."

The House of Mirth directed by Terence Davies, was released in December 2000 and marked Gillian's first starring role (Lily Bart) in a project unrelated to "The X-Files." The film was listed among the top 10 films of the year 2000 by critics from Rolling Stone, Entertainment Weekly, Film Comment, Newsday, the New York Daily News, the Village Voice, and the New York Press. For her portrayal of Lily Bart, Gillian won the British Independent Film Award for Best Actress and the Best Performance Award from the Village Voice Film Critics' Poll.



Gillian said, "[What fascinates me most about Lily Bart is] the journey that she goes on. No matter how many times I read the script, tears came to my eyes. There was just something about it that was so tragic. The way that Terence was able to transfer the novel to film, I think he did it very, very well. I honestly believe that our focus back then and today, is in the wrong place in this Western world. As long as we continue to put our focus [on material wealth] and not on the heart and in compassion for others and in the wealth of love and giving and understanding, we will continue to be faced with the same dilemmas that Lily is."

"The X-Files" finished its ninth and final season in May 2002 marking the end of a large chapter in Gillian's life: "The fact of the matter is that I grew up during the course of the show. I started when I was 24 and ended at almost 34. That's almost a third of my life. There's a time for everything to end and I think this is the right time. I think everybody in their own way is excited about moving on to other things."

For a complete change of pace, Gillian moved to London where, from November 2002 through February 9, 2003, she starred in the Michael Weller play "What the Night is For" in London's West End. Gillian had been yearning for the opportunity to return to the stage. "I loved being in London. But what I loved the most, I think, and what I learned from the most, was about the 'moment to moment' focus that takes place in live theater."




Later that year, she lent her support to South Africa's Treatment Action Campaign (TAC) in a demo in London. "The South African government can't just sweep Aids under the carpet," she said.

In a message to her fans, she wrote: "I do not really have that much to say except that perhaps everyone who reads this could spare a few more minutes of their time and visit an AIDS related website to fill themselves in a bit more about what's going on with AIDS in Africa at the moment cause it's a real real problem right now and everyone and their cat should know the seriousness of the catastrophe. Oh my God, no pun intended."