Last Updated: June 14th - View New Items Only

Click here to preview some of the items that will be available in this year's auction. New listings are still being added!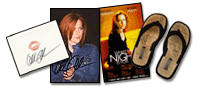 - Become a sponsor

- Read frequently asked questions and rules to participate

- Spread the word by downloading an auction flyer (MS Word .doc file)

- Shop at Amazon.com and a percentage of your purchase will benefit NF, Inc.