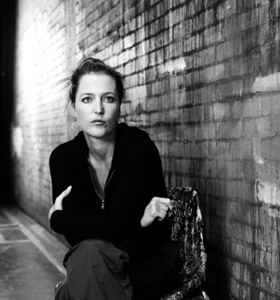 25 March 2004 - 15 May 2004

Evening Performances:
Monday - Saturday 7.30pm
Saturday Matinees:
3, 10, 17, 24 April, 1, 8 and 15 May 3.30pm
Mid-Week Matinees:
29 April 3.30pm
Royal Court Theatre
Back to GA.ws

DAILY MAIL (London)
April 2, 2004

Who's she fooling?
By Patrick Marmion

Verdict: X-Files babe struggles to bridge the credibility gap ***

Starring Gillian Anderson and set largely in an American mental hospital, Rebecca Gilman's amusing new play suffers from its own kind of personality disorder. It starts out in the New York art world with Anderson playing a depressed young artist struggling to get an exhibition together.

The scene seems set for something like Sex And The City, in which we are faced not with a magazine columnist, such as Sarah Jessica Parker's Carrie Bradshaw, but a despondent artist called Dana Fielding, played by the former X Files babe.

Then Dana has a disastrous exhibition at which we get to meet her affected dealer and her dealer's assistant. They set up the expectation that the play is going to turn into more of a satire on the incomparable vanity of the New York art scene - along the lines of Yasmina Reza's West End hit, Art. But no way, Monet.

Instead, it quickly turns into something more like One Flew Over The Cuckoo's Nest, as Dana is committed to a mental hospital after attempting suicide.

But even then you can't be sure what kind of dramatic pathology you're dealing with. On arrival in the hospital, Anderson's character is pretty gloomy, but a good way off psychotic.

That is until she discovers her medical insurance covers her for only ten days' care. To stay longer, she's going to have to convince the authorities she's a little more than depressed. Which is when she hits on the very random idea of pretending to be American baseball legend Darryl Strawberry and faking a full-blown psychosis.

Now the play becomes a selfconscious rerun of Pygmalion, only our heroine is tutored not by a professor of phonetics and his stuffed-shirt friend, but by a murderous sociopath and a gay alcoholic.

Instead of trying to teach her how to become a society lady, they give her a crash course in being a black American major league baseball player who's been dead some time.

Naturally, this generates lots of good humour, but it also generates something of a credibility problem for Gilman's play and Anderson's performance, which has to convince an eminent psychiatrist - a much tougher audience than any gaggle of critics could ever make.

Anderson has her own inimitable, diminutive and subtle style, but a big black American baseball player she ain't.

Nor, in fact, does she really need to pretend to be, because this is, after all, a delusion she's faking. All that matters is that she believes it, not others.

What's more, her examining shrinks may be experts on the cerebral cortex, but don't seem much like authorities on the World Series.

And yet Anderson still contrives to be good to watch, exercising a curious detachment, looking at everyone as though she's coolly sizing them up, while her eyes flicker with the wounded emotion of the ruined artist she is underneath.

If the play bends and eventually breaks credibility, the acting is the strong suit of Ian Rickson's taut production featuring an adaptable and minimalist design by Hildegard Bechtler.

Kate Harper and Nancy Crane double as gushing Manhattan gallerists and then as a pair of sceptical shrinks.

Meanwhile, Demetri Goritsas is a likeable token gay alcoholic, but best of all is John Sharian as the hardboiled, shaven-headed nutcase-in-chief.

He is formidably genned up on a wide range of psychopathologies and is fixated on killing the fictional television presenter Kevin Bridges, who he believes comes into his living room and disseminates evil.

Amusing as his and other moments are, the overall play remains on the whole unhinged.