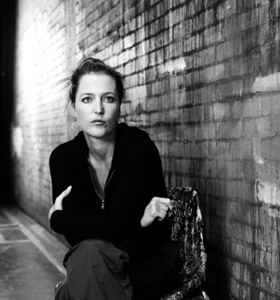 25 March 2004 - 15 May 2004

Evening Performances:
Monday - Saturday 7.30pm
Saturday Matinees:
3, 10, 17, 24 April, 1, 8 and 15 May 3.30pm
Mid-Week Matinees:
29 April 3.30pm
Royal Court Theatre
Back to GA.ws

'Scully's' home run
Reviewed by Fiona Mountford, Evening Standard (1 April 2004)

Transcript courtesy of Andrew

It was brave of her to come back for more. Gillian Anderson, fated to have her name forever suffixed by "Agent Scully from The X-Files", has returned to the London stage after a less than auspicious debut in late 2002.

Fans will be relieved to hear that whereas What The Night Is For was almost universally panned, The Sweetest Swing In Baseball is a whole new ball game, even if Anderson's character is, like Scully, named Dana.

Fittingly enough, this latest piece by Rebecca Gilman is also all about comebacks, about dusting yourself off after vitriolic reviews and starting all over again.

Anderson's Dana Fielding is a fashionable young artist for whom the pressures and expectations of constant creativity prove too much. After a particularly ill-received solo show, she slits her wrists and ends up in a mental institution.

There, befriended by a recovering alcoholic and a self-proclaimed psychopath, she finally finds both the time and the mental space to touch up the damaged canvas of her life.

Two hours' worth of playing time in Ian Rickson's chic, stripped-down production sees Anderson leave the stage once, for about 30 seconds, and, to her immense credit, she is missed even then.

When we first encounter her, Dana is a woman desperately trying to hold it all in, because the consequences of letting it all out would be cataclysmic.

Anderson, with her brittle gestures, staring eyes and suppressed tears, perfectly conveys the scarcely hidden panic of the depressive. Yet when this continues in hospital, when Dana's hunted look returns with the news that her insurance policy will shortly stop paying for treatment, the suspicion is that we are in for a one-note performance.

What prevents this is Dana's desperate attempt to prolong her stay in the hospital's cocoon by playing mad and imitating disgraced baseball legend Darryl Strawberry, whose book on recovery she reads. This swaggering alter ego frees up Anderson to revel in macho posturing and openings for humour.

This venue has played host to three previous plays by the multi-award winning Gilman, which were notable for being strongly issue-led.

Her theme here is the predicament of the artist, whose months of solitary work end with a very public and potentially damaging adjudication, yet all she has to say about the creative process is that it's tough and one needs a thick skin - or even a whole new personality - to survive it.

Her solution to Dana's professional malaise could also have come straight from the pages of a self-help manual. Nonetheless, Sweetest Swing's very strength is the fact that the issue produces such a sympathetically human and fallible character.

Four actors play all the other parts on Hildegard Bechtler's minimalist set, whose white walls create the forbidding atmosphere of a modish gallery. Demetri Goritsas is all sympathy as fellow inmate Michael, while Nancy Crane's gallery owner, Rhonda, is a monster in fine tailoring.

Yet there can be no denying what this particular night is for: the triumph of Gillian Anderson.