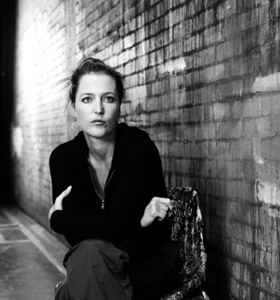 25 March 2004 - 15 May 2004

Evening Performances:
Monday - Saturday 7.30pm
Saturday Matinees:
3, 10, 17, 24 April, 1, 8 and 15 May 3.30pm
Mid-Week Matinees:
29 April 3.30pm
Royal Court Theatre
Back to GA.ws

Gillian's Crazy Role
By Robert Gore-Langton
The Express
April 2 2004

Former X Files star Gillian Anderson is back on stage in The Sweetest Swing in Baseball. After the last play she was in flopped, this comes as a welcome relief. Anderson is on fine form as a successful New York artist who flips out when her new exhibition bombs and her boyfriend dumps her.

Admitted to a psychiatric hospital, she discovers her insurance will pay for only 10 days of treatment. If she can prove she is insane, rather than just chronically depressed, she'll get longer in her new oasis of safety.

Anything, it seems, is better than the art world. Befriended by a fruitcake patient and a gay alcoholic, Dana assumes the identity of a fallen national hero - black baseball star Darryl Strawberry - to prove her insanity to the sceptical shrinks.

It's a watchable if rather trite yarn, with the tiny Gillian Anderson commanding the stage as the messed-up artist. In doing so she gets a comic revenge on the art world as represented by a pair of female leeches who look after her work.

Director Ian Rickson helms this frankly bizarre play, one which has a nice line in gallows humour. I hope it's not giving too much away to say that at the end it reminded me of that episode of Colditz in which the British prisoner feigning madness in order to get sent home actually goes bonkers.