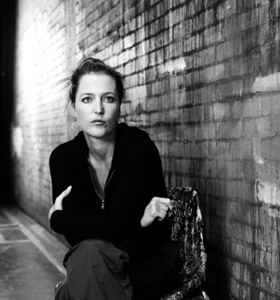 25 March 2004 - 15 May 2004

Evening Performances:
Monday - Saturday 7.30pm
Saturday Matinees:
3, 10, 17, 24 April, 1, 8 and 15 May 3.30pm
Mid-Week Matinees:
29 April 3.30pm
Royal Court Theatre
Back to GA.ws

International Herald Tribune
April 14, 2004
By Matt Wolf

Gillian Anderson, I have no doubt, is a lovely stage actress, but the "X-Files" star seems reluctant to choose plays that might show that fact off. About 16 months ago, Anderson made her British theater debut in a two-character play, "What the Night Is For," by Michael Weller that would have been gone in a flash without the actress's television renown as Dana Scully.

Undaunted, Anderson has returned to the London boards, this time in the tonier environs of the Royal Court, arguably London's most exciting address (after the National) for new plays. Her vehicle is "The Sweetest Swing in Baseball," the latest world premiere by Rebecca Gilman, who is just one of several American dramatists to have found an artistic home at the Court.

It would defy even the best efforts of the dauntless Scully to make sense of the pale, petite Anderson passing herself off as the New York Mets star, Darryl Strawberry - who, of course, is black. (And on what level will a British audience, not exactly steeped in baseball, understand the reference?)

To be fair, Gilman's narrative insists that Dana - Anderson's character in this play has the same name as her television special agent - not accomplish the impersonation particularly well: When Dana is being Darryl, advises the published script, "she doesn't imitate him or try to talk like an African-American."

But there's nonetheless only so far you can go with a play that wants to say something probing about artistic self-worth and cultural value in today's commodified world when it comes bearing the hallmarks of the once-popular Gene Wilder-Richard Pryor movie, "Stir Crazy," with Anderson having to play both parts.

For all of Ian Rickson's characteristic directing finesse and the commitment of his leading lady, "Sweetest Swing" groans under the weight of a governing conceit that leaves you crying foul.