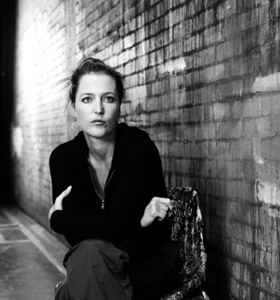 25 March 2004 - 15 May 2004

Evening Performances:
Monday - Saturday 7.30pm
Saturday Matinees:
3, 10, 17, 24 April, 1, 8 and 15 May 3.30pm
Mid-Week Matinees:
29 April 3.30pm
Royal Court Theatre
Back to GA.ws

Evening Standard Metro Life Magazine
April 1 2004

Transcript courtesy of Rozzie

Gillian Anderson may not have been able to redeem her last West End play, What The Night Is For, but she triumphs in this one, Rebecca Gilmanís drama about the pressure of fame and commodification of culture.

Anderson plays artist Dana, who tumbles into a suicidal depression after a series of bad reviews. Referred to a psychiatric unit, but with minimal insurance cover, she fakes a personality disorder (adopting the persona of a former baseball star) to convince the doctors to keep her in longer.

Gilman launches a two-pronged attack on the way economics reduces the worth of an artist to the financial value of the work and determines the treatment of mental heath. But these are not new truths and, while Gilmanís play is characteristically clean and direct, her treatment of the subject and mordant comedy feel pat.

Anderson is better than her part: for a play concerned with the rehabilitation of identity, Danaís characterisation is slight. Yet Andersonís racked intelligent performance finds real depth and personality in Gilmanís lightly sketched pathology of mental illness. Ian Richarsonís fluent production and Hildegard Bechtlerís poignant set design, littered with blank canvases, elevate the play further, but it is Anderson who makes you feel.