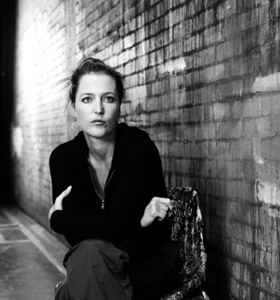 25 March 2004 - 15 May 2004

Evening Performances:
Monday - Saturday 7.30pm
Saturday Matinees:
3, 10, 17, 24 April, 1, 8 and 15 May 3.30pm
Mid-Week Matinees:
29 April 3.30pm
Royal Court Theatre
Back to GA.ws

The Observer
April 4, 2004

I'll swing for you, baby
By Susannah Clapp

Gillian Anderson proves her worth as a stage actress in a magnetic and witty performance at the Royal Court.

Tiny, understated and determined, under Ian Rickson's direction in The Sweetest Swing in Baseball, Gillian Anderson is a magnetic presence at the Royal Court. What a change from her appearance in London two years ago, in the null What the Night is For . Then - predictably cast as a temptress - she looked as if she were in the West End merely to pretty things up. She was marmoreal, occasionally whirring the air with her hands, as if to prove that she could do big acting. But in Rebecca Gilman's new play, as a neurasthenic painter - a woman who wants to recreate herself - she is fluent, witty, expressive.

Her character is on the verge of a nervous breakdown, and she is careful with her face and gestures, moving so cautiously that she suggests she may break herself with any sudden gesture. She has the sort of detailed emotion that you might expect to be visible on telly but hardly perceptible on stage. But good actors can make you see in close-up - and require you to register the heft of an eyebrow - even if you're yards away.

Audiences may go to see a celeb, but they'll leave having seen an actor. They'll have also experienced an immaculate production of a skeletal play. Gilman - who has written a taut thriller about stalking, and a campus discrimination drama - always writes lean, but she's overdone it here. Her characterisation is anorexic, though with ingenious touches: in a play which talks sceptically about multiple-personality disorder, all the cast apart from the main actor play several roles.

An artist has a critically slated exhibition and gets dumped by her boyfriend. She tries to kill herself and winds up in a mental hospital, where she meets a kindly alcoholic (Demetri Goritsas gives him the right degree of stunned amiability) and a gifted psychopath (funny and prowling John Sharian). She has interesting conversations with them: negative space in painting acts as an evocative metaphor for the way her character is defined by everything that isn't her; they also make good jokes.

Understandably, she likes it there. But she can't stay unless she's considered to be seriously insane. So she presents herself as a white woman who thinks of herself as being a black baseball player. In impersonating him, she begins to paint differently. Better, her agents think: they are keen (there's not much subtlety about this satire on the art world) on her pictures of chickens in baseball caps. Hildegard Bechtler's impressive all-white design (with an occasional flush of neon violet) is a series of screens and strip lighting: art gallery glides into hospital, accompanied by a whirring electronic soundscape.