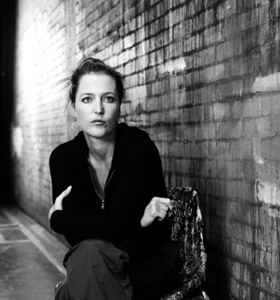 25 March 2004 - 15 May 2004

Evening Performances:
Monday - Saturday 7.30pm
Saturday Matinees:
3, 10, 17, 24 April, 1, 8 and 15 May 3.30pm
Mid-Week Matinees:
29 April 3.30pm
Royal Court Theatre
Back to GA.ws

Time Out, London
By Jane Edwardes (April 7, 2004)

Rebecca Gilman has pre-empted criticism of her new play by suggesting that over-sensitive artists are dragged down by the envious, secondrate people who surround them the dealers, agents, and, of course, the critics who relish their misfortunes. At least that's the attitude of the central character, Dana, a talented young painter with a bright future before her until her new show tanks, her boyfriend abandons her and she is taken to a mental hospital after attempting suicide. Dana needs space, not pressure, and she simplifies the mixedand often contradictory motives of those in the art world whose own careers partly depend on her success. In an attempt to prolong her stay in the hospital,despite the worst efforts of her health insurers, she pretends to believe that she's been possessed by the real-life baseball player Darryl Strawberry. Lo and behold, in this new personality she starts painting again with greater vigour, and her much-caricatured dealers climb back on board; they are curiously attracted to her paintings of chickens wearing hats. Only now Dana, more and more under the spell of Darryl, discovers a new aggression and holds the controlling hand.

The problem is that Gilman never digs deep enough into the reality of depression, nor does she present an adequate antithesis to Dana's point of view.To suggest that a psychiatrist, who once wanted to be a dancer, might not find equal or even greater satisfaction in the career that she finally followed, is to fail to recognise that creativity is not confined to the arts.

Ian Rickson's sensitive production does its best to suggest that there is something really at stake here, and is helped enormously by Gillian Anderson's tremendous performance as Dana, whose bright, tense smile implies all the horrors of sinking helplessly into a black hole. But Rickson and Anderson are wasting their talents on a play that trivialises depression while apparently treating it sympathetically.