News Archive: December 2003


Season's Greetings Everyone!

Posted at 5:38 AM (PST) on Thursday, December 25, 2003

Peace, Love, and Joy to you and yours this holiday season.

Wishing you ALL every good thing now and in the year ahead.

HAPPY HOLIDAYS!
New merchandise in store
Posted at 3:18 PM (PST) on Friday, December 19, 2003
New items are available in our
online store
featuring artwork by Gillian's daughter, Piper.
Click here
to view them.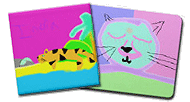 Thank you to everyone who has placed orders so far!
New Online Store
Posted at 12:46 PM (PST) on Monday, December 15, 2003
Click here
to enter our new store at CafePress.com.
Merchandise features new original "Wake Up" artwork by Gillian: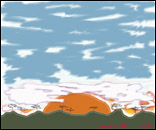 All proceeds of this store will go to
Neurofibromatosis, Inc.
Every purchase you make helps to benefit this organization. Please feel free to
contact us
if you have comments or suggestions for the store.

Thank you very much for your support!
Holiday Greetings from Gillian
Posted at 7:36 AM (PST) on Saturday, December 13, 2003

So it's Christmas time again and here I am at the computer in Vancouver and I can't say I'm feeling very Christmassy. I am absolutely dreading shopping that I must do later today in order for it to get sent in time for the actual day.

But I guess part of my unChristmassyness is that it will be the first Christmas ever - is that true? - surely not! - that I will be away from my family.

Christmas is normally my favorite holiday for all the cozy reasons and this year I will be driving across Africa in a very uncozy, unwintery vehicle with no room for presents or appropriate holiday cheer. It's not that I'm complaining! It's going to be fantastic - and I asked for it! - but I guess my seasonal wish for everyone is that you cuddle up to the people closest to your hearts and fully enjoy their proximity and the blessing of their presence in your lives.

And I thank all of YOU for your presence in MY life cause you have all made it that much richer.

Till 2004, kisses all around,

Gillian.


New Foreign Press Association Media Awards Picture
Posted at 2:44 PM (PST) on Thursday, December 11, 2003
Here is a picture of Gillian with Prince Edward, Earl of Wessex taken at the
Foreign Press Association Media Awards
in London on November 25.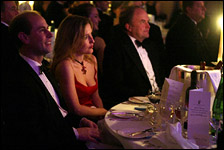 Gillian Pleads for Lincoln Park Elephants
Posted at 7:02 AM (PST) on Tuesday, December 9, 2003
From
PETA
:
December 8, 2003
Contact: Michael McGraw 757-622-7382
As PETA feared, the three African elephants who were controversially shipped from the
San Diego Zoo
to Chicago's
Lincoln Park Zoo
in April are in terrible shape. With Chicago's long, bitterly cold winters, the elephants, one of whom is 53 years old, will be kept in a small backroom for half the year, making their chronic medical conditions even worse.
Chicago native Gillian Anderson has written a letter to the director of the Lincoln Park Zoo, pleading with him to send the three to a sanctuary in a warmer location that is more appropriate for African elephants, who are accustomed to an equatorial climate.
Kevin Bell, Director
Lincoln Park Zoo
2001 N. Clark St.
Chicago, IL 60614-4757
Dear Mr. Bell:
I was horrified to learn from People for the Ethical Treatment of Animals (PETA) that three aging elephants from the San Diego Zoo, who had lived there since they were infants, were recently transferred to the Lincoln Park Zoo where they are now getting their first taste of winter in one of the coldest regions of this country.
These elephants were accustomed to being outdoors year-round in San Diego's warm climate. Now, when the temperature dips below 40 or 50, they will be confined and isolated from one another in a small concrete back room. I understand that Peaches, one of the oldest African elephants in captivity, suffers from chronic lameness, colic, nail abscesses, and facial sores and recently broke off a tusk. Her long-time companions, Wankie and Tatima, reportedly suffer from recurring colic, and one has developed a serious limp since arriving at your zoo while the other shows signs of being angry and frustrated.
I kindly ask that you give serious thought to letting Peaches, Tatima, and Wankie retire to a warmer climate where they will have lots of room to roam, forage, play, swim in a pond, or do anything else that comes naturally to them.
The Elephant Sanctuary
, which operates on several thousand acres in the town of Hohenwald, Tennessee, has eagerly offered to take these elephants under its wing so that they can rest, recuperate, and live out the rest of their days in a more natural habitat with other African elephants. PETA would be happy to pay for transportation costs.
I hope you'll take the best interests of these elephants into thoughtful consideration and release them to a well-reputed sanctuary. I look forward to your reply. You can reach me through Debbie Leahy, PETA's director of captive animals and entertainment issues, at 630-393-9627.
Sincerely,
Gillian Anderson
The
Chicago Sun-Times
reports:
In response to Anderson's charges, zoo spokeswoman
Kelly McGrath
said Monday, "We are encouraged by Ms. Anderson's obvious commitment to wildlife and are grateful for the opportunity to respond to her concerns, most of which appear to be based on erroneous information or miscommunication.
While Chicagoans do experience some very cold temperatures, many days even in the heart of winter are mild, and Peaches, Wankie and Tatima will spend more than three-quarters of their time outside in the yard. They will at all times have access to the indoors, where they are never 'isolated,' but are housed in a social situation.
Lincoln Park Zoo has been home to elephants for more than half a century and is proud to have on its staff animal keepers and veterinarians who are experts in elephant care."
NEW!
PETA has an
update
that includes:
A copy of their letter warning Lincoln Park Zoo officials that the San Diego elephants would be miserable in Chicago.
A video of the elephants hobbling around their tiny enclosure.
What you can do to help.
Gillian on BBC Breakfast
Posted at 9:23 PM (PST) on Monday, December 1, 2003

Gillian appeared on the BBC
Breakfast
television programme this morning to discuss World AIDS Day.
Click
here
to read the transcript and
here
to view pictures.
A video clip of the entire interview is available
here
in
Windows Media
format (12.8 mb).
Thanks to
LC Wilson
for the pictures and video clip.
For more information, visit the BBC website
here
.